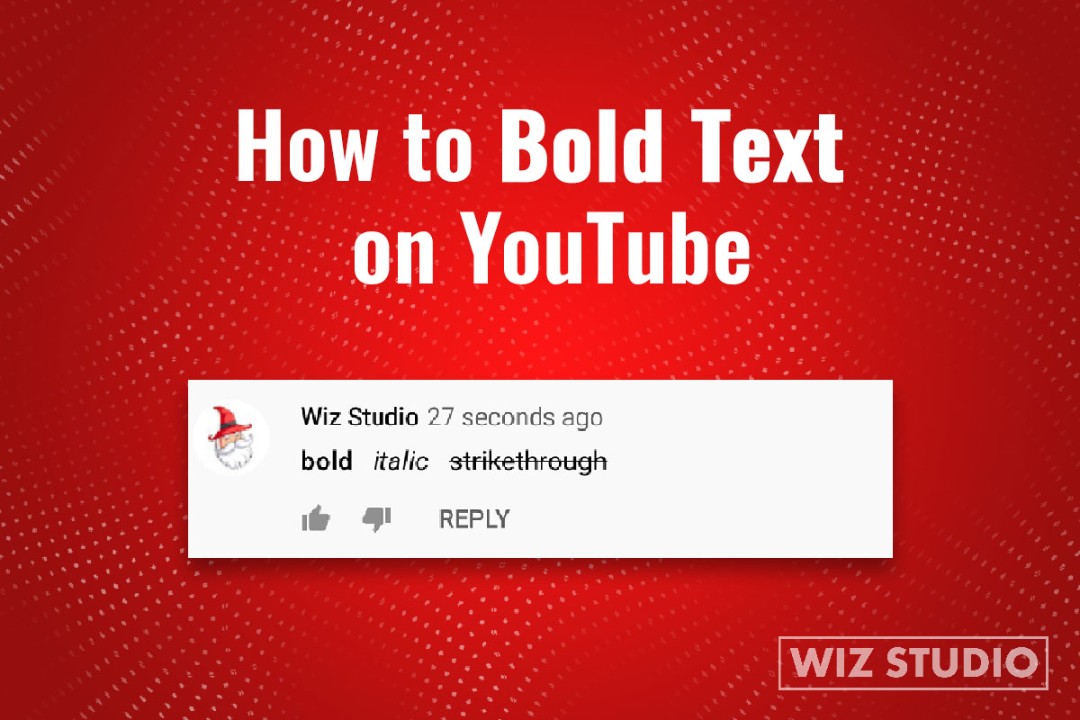 How to Bold Text on YouTube [With and Without Any Software]
Are you here to learn how to bold text YouTube descriptions and comments? More YouTube comment formatting styles down below.
You can make any word, sentence, or a part of your comment or description bold to help other users quickly locate the most important idea. Besides making it bold, you can make it italic, and strikethrough, which we'll discuss later on in this post.
Let's get right into how to bold text on YouTube.
How to Bold Text in YouTube Descriptions and Comments
Now, comes the interesting part – the steps to bold text any comment or description on YouTube (they are bolded differently). Clearly, this is one of the most popular YouTube comment formatting methods. 💪
To Bold Text in YouTube Description:
There are many free bold text generators for YouTube. You can use any of them to make certain parts of your description bold. The one users are most likely to choose are free online generators with no requirements like Scrapersnbots.
Copy the text you want to make bold.
Find the generator, paste into the text area, and hit Enter.
Copy the bolded text and paste back into the description area of a YouTube video.
To Bold Text Comment on YouTube:
Open the YouTube Studio
From Content select the video with a description you want to make bold. Obviously, these are just a couple of words or sentences here and there, and not the whole paragraph.
Put an asterisk before and after the word or a sentence.
Hit Publish.
Want to see a step-by-step process before you bold text yourself? Watch this 1-minute video guide.
Frequently Asked Questions
Do I Need to Use a YouTube Bold Text Generator?
You can, but YouTube bold text generators like LingoJam are not necessary if you know the trick. In fact, you are here to see the keyboard shortcut that lets you bold text without ever leaving the YouTube app.
👣 SUGGESTED READING: The Most Liked Comment on YouTube
That said, bold text generators exist to make your life easier. Also, you cannot bold text a description on YouTube without using a YouTube bold text generator. Typically, such generators run a code that converts a normal text into bold text without requiring registration or any shortcuts.
You will see the two text areas on the bold text generator page – one for the input, and another one for the output. Once you copy the output and paste it into the video description area in YouTube Studio, you will see the difference between a normal text and bolded one.
YouTube Comment Formatting (Bold, Italic, Strikethrough)
YouTube supports 3 main ways to YouTube comment formatting: bold, italic, and strikethrough.
When making a text bold, you should not leave spaces between the asterisks and a word, otherwise you will not get a comment in bold, but a strange looking comment like * great talks * instead of great talks.
If the word or a sentence you want to make bold is surrounded by other words you should leave spaces before and after the asterisk signs. So, when you are reading comment on YouTube you must know users have added spaces before and after *you are reading comment on YouTube* to make these words bold. If this sounds complex, use a YouTube bold text generator instead.
To make a comment or Youtube description italic use _underscores_ before and after the text with no spaces left between. Note, spaces must be added to separate the italic word and surrounding text.
For strikethrough, the text in descriptions or comments put -hyphens- (or dashes) around the text. Note, since the 2019 strikethrough in YouTube comments stopped working on mobile. As of today, strikethrough only works on PC and not on mobile.
Why Does YouTube Comment Bold not Working?
Common reasons why YouTube bold comment is not working are:
You left spaces between the asterisks and a word surrounded by them.
You forgot to leave spaces before and after the asterisks.
How Do You Change Font On YouTube?
You can change fonts using the same YouTube bold text generator called LingoJam(or any other free generator you know) to change fonts on YouTube.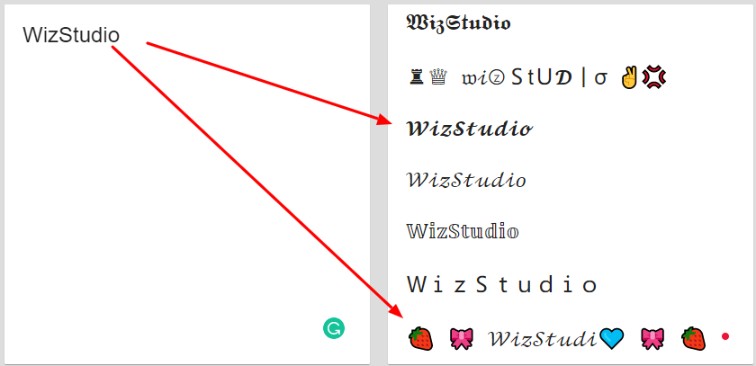 As seen in this picture, the generator converts your text into anything but boring. Choose the font that meets your style and taste. From bold to italic to emoji-style, you choose.
For more tips, TikTok stats, and how-to guides, check out other posts on the WizStudio blog.
378
2
0
cookie-check
How to Bold Text on YouTube [With and Without Any Software]