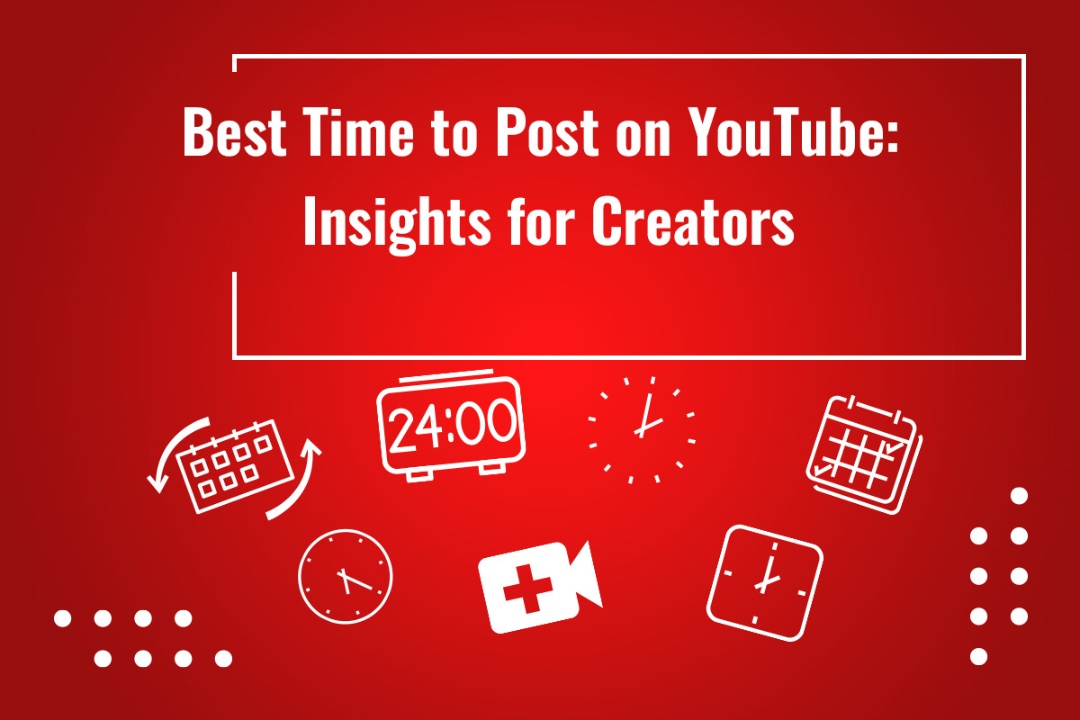 Best Time to Post on YouTube: Insights for Creators [+ Infographic]
Before you know when the best time to post on YouTube is, ask yourself who your most engaged viewers are? Are they college students coming of age, grown-ups working full-time, or retired people?
What countries and platforms do they come from?
Why should they choose your channel over a million others with similar content?
When those people are most likely to open YouTube to chill?
You might wonder how this all is related to the topic of today's discussion of the best time to publish YouTube videos. And it does if you want to improve your engagement rate, get twice more views, and jump up your channel subscriptions.
Just a quick notice before we dive right into it. Here at WizStudio, seasoned YouTubers pair with nerds to develop the best tools for new creators. As creators, we share a passion for our on-camera work. As YouTubers, we want to grow the channel to get YouTube awards and bigger paychecks while pursuing the passion.
Check out YouTube Rank Checker to see if your video shows up in the top 50 results for a keyword. Best if you go over your best performing videos before uploading any more videos to your channel. You could switch from country to country to see if a certain video ranks better in one country than the other, or check for multiple keywords.
What Is the Best Day to Post on YouTube?
The right question would be "Is there a best day to post on YouTube". The answer is yes, it's Thursday and Friday from what successful YouTubers have shared.
Although it varies for several countries in different time zones, the second half of the week proves to generate more views than the first. Looking into the details of video content on TV, and other social media channels, we can understand why.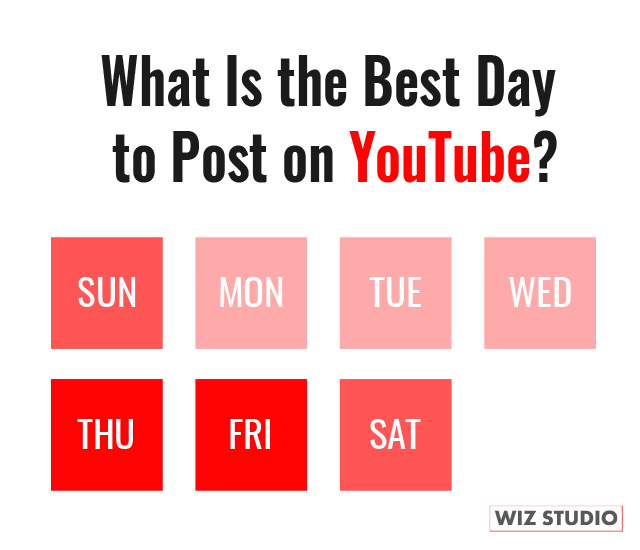 Because the part of the YouTube audience is schoolchildren, teens, and young adults, it's pretty much self-explanatory why viewership peaks up on Saturday but falls down at the start of a new week. Multiple research backs up this data showing that posting videos on Mondays have not nearly as many views as Friday releases. So, if you are a small channel posting 1-2 videos a week, Thursday through Saturday are the best days to get more views on YouTube.
Otherwise, if you are a medium-sized channel with a well-established audience, any day of the week could be best to treat channel subscribers with a new video. Just make sure, you use the target keywords to let the algorithm discover your videos quickly.
💎 Pro Tip Make sure your channel subscribers know when to expect videos. Preferably if you display publishing days on your YouTube channel banner. This gives engaged subscribers a hint when to expect new uploads. After all, not everyone hits the bell icon to get notified.
What Is the Best Time to Post on YouTube?
Now as we know when the best day to post on YouTube is, let's know if afternoons or evenings are YouTube peak hours.
Browsing through pages and pages of data, and interviewing over a hundred creators, it's clear that lunch time break is best time to publish YouTube videos. So, schedule or manually upload YouTube videos from 1-2 p.m. till 4 p.m for most engagement.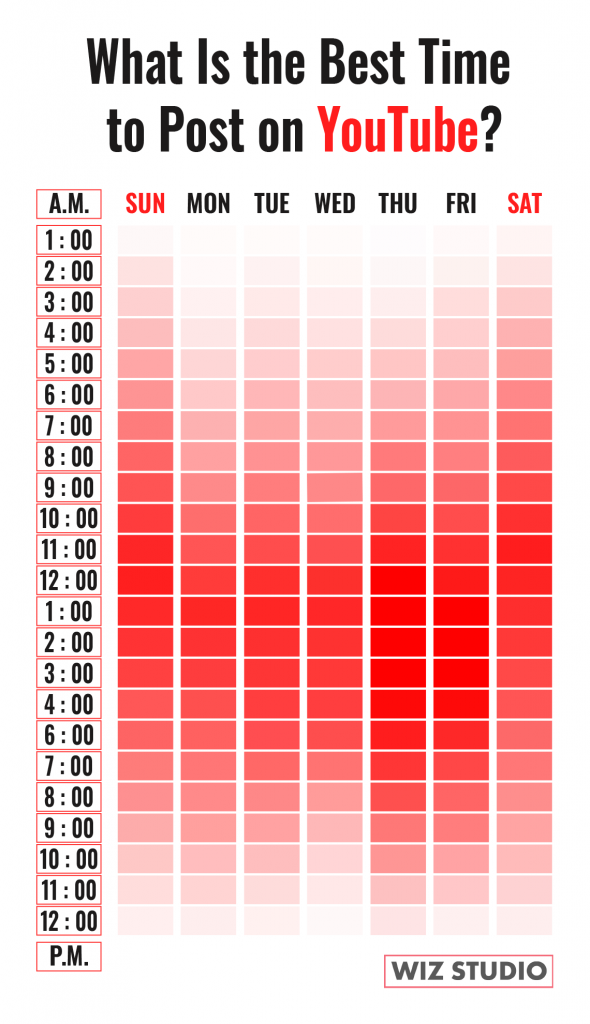 Speaking of engagement, if you are unsure what YouTube engagement is or how to measure it, check out 10 Important Engagement Metrics Every Creator Must Know.
Does this mean, afternoon hours are peak hours on YouTube? No.
The spike in the usage indicates that YouTube peak hours fall between 7 p.m. and 10 p.m. Just like prime TV. Viewers' habits have changed since the rapidly changing media landscape. Now they often prefer YouTube and other streaming platforms to cable TV.
Now, to make this easier on the eye, take a quick look at the infographic we have down below. You could see there is not much of a difference in hours within the days of the week.
⚡ Quick Fact The possible 2-4 hours in between are needed for the YouTube algorithm to process the newly uploaded video and decide whom to show it to. In technical terms, this is called indexing, and in the digital space, indexing refers to any type of content uploaded into the system. Thus, the best time to post on YouTube is 2-3 hours before the YouTube peak hours.
Best Time to Post on YouTube for Small Channels
It is physically impossible to get a specific time and day to get more views on YouTube for everyone. The odds are both Mondays and Fridays may well work for you.
If you are still unsure about your reach and engagement, YouTube suggests you use Analytics data to feed content when viewers are active on YouTube.
To see when videos received most views, go over the following steps:
Log into YouTube Studio;
Click on the Analytics and then,
Head to Audience tab;
You will see "When your viewers are on YouTube".
This shows you when the majority of viewers have been active on YouTube in the past 28 days. This report, however, may not be available for smaller channels. Instead of seeing light and dark violet table cells indicating the percentage of your audience being on YouTube during the week, you will see a note.
"Not enough data to show this report".

YouTube
So, how could a smaller channel without an Analytics report know when is the best time to post on YouTube? They won't unless the video rank and its engagement rate is monitored.
Be sure to know how well your videos rank, and how engaged viewers are.
If you have a handful of videos on your channel you can calculate the engagement rate manually using this formula below.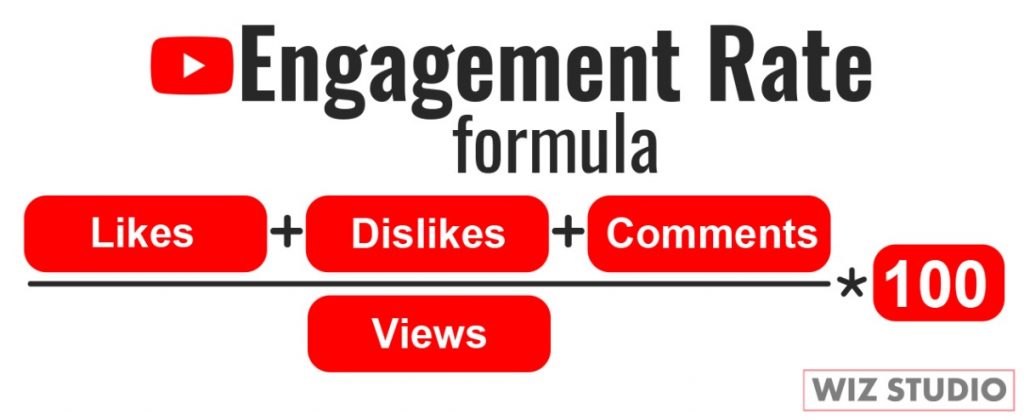 However, if there are 20 or more videos, we suggest you use YouTube Engagement Calculator to save time for editing. You will see the breakdown for likes, dislikes, and comments measured in percentages along with the average engagement rate.
Once you know your top performing video, see if you could replicate its success posting at similar time and day.
Do Best Times To Post on YouTube Differ From Other Social Media Apps?
If you are a social media user, you already know that despite Facebook, Instagram, or TikTok all having video content, YouTube is the first in video marketing. It is the first platform that comes to mind when looking to take back and relax.
Comparing the best time to post on YouTube, Instagram, Facebook, and TikTok is a fancy way to see when users are active on those platforms. These stats may or may not be eye opening for a seasoned social media influencer.
But as emerging influencers we could all benefit from them. So, let's mix and match!
Best Time to Release a Video on YouTube
Just to pinpoint again, Thursday and Friday afternoons from 2 p.m. to 4 p.m. are the best times to publish YouTube videos. Take a look at these additional stats to see if you've been making videos right.
Monday 2 p.m. – 4 p.m.
Tuesday 2 p.m. – 4 p.m.
Wednesday 8 a.m. ; 1 p.m. – 4 p.m.
Thursday 12 p.m. – 3 p.m.
Friday 11 a.m. – 3 p.m.
Saturday 9 a.m. – 11 a.m.
Sunday 9 a.m. – 11 a.m.
Best Times to Post on Facebook
Videos were officially launched back in the early days of Facebook, in 2007. It allowed its users to both upload recorded videos and livestream. Today, on average 1 billion Facebook videos are watched daily.
To maximize your reach you can choose the best time to post on YouTube to later publish a post on Facebook. Or tease your followers by announcing an upcoming video on YouTube and its publishing date. Wednesdays are strongly suggested.
Monday 8 a.m. – 10 a.m. ; 1 p.m.
Tuesday 10 a.m.; 1 p.m. – 2 p. m.
Wednesday 11 a.m.; 1 p.m. – 2 p. m.
Thursday 10 a.m. – 2 p. m.
Friday 9 a.m. – 11 a.m.
Saturday 9 a.m. – 10 a.m.
Sunday best not to post
Best Times to Post on Instagram
Unlike YouTube and Facebook Sunday posts which receive little attention, Instagram posts are at their best on Sundays between 3 p.m. and 9 p.m.
Monday 11 a.m. ; 9p.m. – 10 p.m.
Tuesday 5 p.m. ; 8 p.m. – 9 p.m.
Wednesday 5 p.m. ; 9 p.m. – 10 p.m.
Thursday 4 p.m.; 7 p.m.; 10 p.m.
Friday 6 p.m. ; 10 p.m.
Saturday 3 p.m. ; 6 p.m. ; 10 p.m.
Sunday 3 p.m. – 4 p.m. ; 9 p.m.
What's The Take?
If you have followed all along with our post, you should be able to deduct the best time to post on YouTube for your content by now. While generally Thursdays and Fridays are the best times to release a video to get more views on YouTube, it vary from channel to channel.
Some of the key factors that influence video's reach at certain times are viewers' interests, availability of time, channel's content, and video optimization and rankings.
While viewers can be interested in fun content in the evenings, educational content could score equal chances of being viewed at any given time. In the same manner, your video could be loaded with interesting facts and relevant data, uploaded in the best time and day, but get not nearly as many views as you would expect it to because of the low rankings.
In this post, we have pieced together not only when is the best day and time to post on YouTube, but added a couple of free tools which help track engagement and rankings. Visit our YouTube SEO page if you want to learn more about YouTube rankings and video backlinks.
📌 A Few Posts On How Influencers Get More Views on YouTube
318
8
6
cookie-check
Best Time to Post on YouTube: Insights for Creators [+ Infographic]