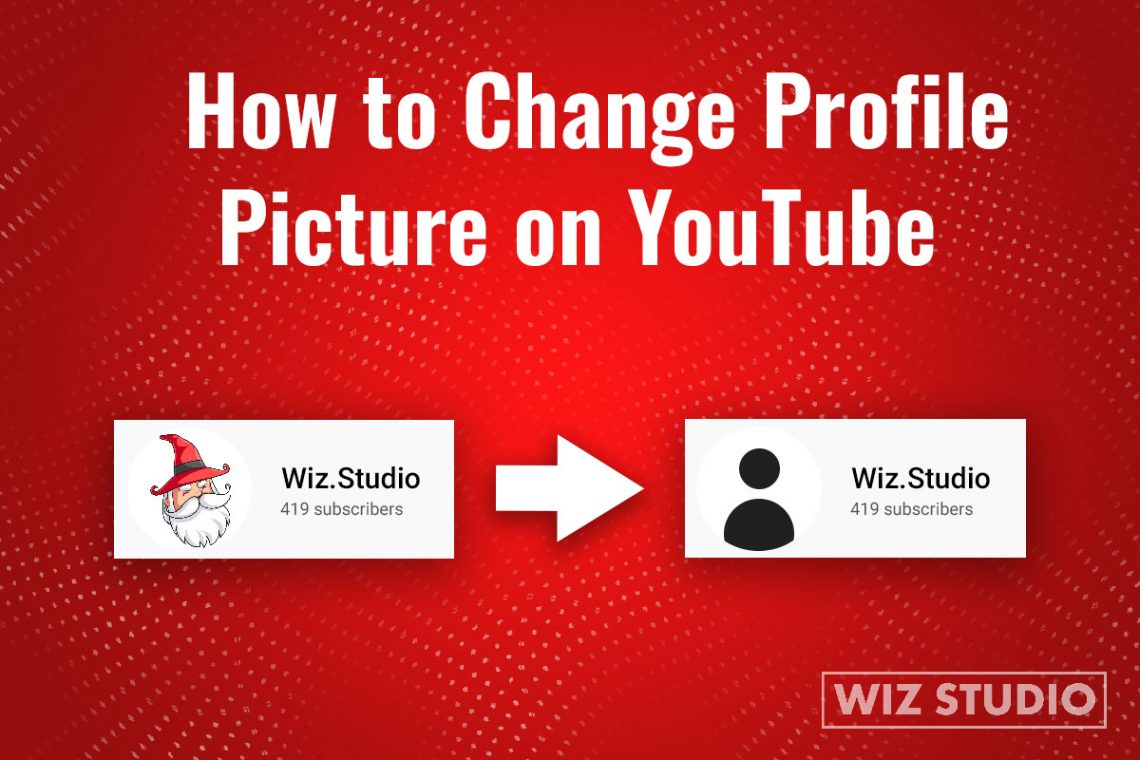 How to Change Profile Picture on YouTube [Android, iPhone, PC]
A YouTube profile picture is a user's avatar, which shows up on public comments, a YouTube channel, and videos (if you have one). This post will show how to change a profile picture on YouTube on mobile (Android/iPhone) and PC.
Without further ado, let's dive right in.
How to Change Profile Picture on YouTube [Android and iPhone users]
Did you know your profile picture on YouTube can be changed without changing your profile picture on a Google account? This is one of the most recent changes, as of 2021.
Log in to a YouTube account.
Tap your profile picture 
Go to YOUR CHANNEL.
Tap EDIT CHANNEL. Then, tap your profile picture.
You can take a photo, or choose a photo to upload.
Click SAVE.
How to Change Profile Picture on YouTube for PC
Steps to change your profile picture in YouTube Studio.
  SIGN IN to YouTube Studio.
  From the left menu, select CUSTOMIZATION  → BRANDING.
  Click UPLOAD and choose an image. Adjust the size,  click DONE.
  Click PUBLISH. 
Note, this may take a few minutes for your profile picture to update across YouTube.
Want to see how to change profile picture in action? Watch this short tutorial down below where we walk you through the steps.
How to Change Profile Picture on YouTube 2021
There are questions that are asked frequently on how to change YouTube profile picture or YouTube banner and background in 2021. Below we have combined the common requests that often appear in Google searches and direct answers to them. Find yours if you have any.
Frequently Asked Questions
How to Change the Background Color on YouTube channel?
Very much like the question "How do I change my YouTube background to black" changing the background or theme on the channel to any color you want is easy.
Step 1: Save a YouTube channel banner on the computer (if you have one, of course).
Step 2: Right-click on it, and open with Paint 3D or whatever Paint is installed on your computer.
Step 3: Pick the color from the color palette, and tap once where you want to change the color.
Step 4: In the banner case, this is going to be the top and the bottom above it. Save a file on your computer.
Step 5: To change YouTube background to black, choose black from the palette and tap once above and underneath the banner image.
Step 6: Sign in to YouTube Studio, and select CUSTOMIZATION from the dashboard on your left.
Step 7: Tap BRANDING, and CHANGE (under your Banner Image)
Step 8: Upload the image from your computer and hit PUBLISH.
Step 9: Refresh the page and see the channel page on both mobile and PC to make sure the background color on the YouTube channel has changed.
How to Change YouTube Background Picture?
In addition to knowing how to change profile picture on YouTube, it is common to question how to change YouTube background picture, better known as YouTube banner or cover. There are 3 steps to change YouTube background picture.
Step 1: Open YouTube in the browser or the app (on mobile or PC).
Step 2: Go to Your channel, and tap EDIT CHANNEL.
Step 3: Tap the photo icon in the top left corner, choose banner from your device and hit SAVE
Video Tip: If you don't have a banner yet, or want to see how to change YouTube channel banner, this video from WizStudio teaches you how to do that.
How Do I Get Rid of the YouTube Banner?
Sometimes it may happen that you have tried multiple banner images and did not find the right fit. Learning how to get rid of the YouTube banner will make sense.
To remove the YouTube banner from your channel, sign in to YouTube Studio (on PC), and click CUSTOMIZATION.
Then, just like with changing profile picture on YouTube, click on BRANDING. Under Banner Image choose REMOVE instead of CHANGE (as before). 
Cannot Change YouTube Profile Picture
There are cases you may not be able to change your profile picture on YouTube.
🤔 Problem 1: Browser issues
💡 How to fix it: First try hard resetting the page by pressing Ctrl + Shift+ R. If no result, then, try to clear the browser cache by pressing Ctrl+Shift+Del or Cmd +Shift+ Del (on Mac). This opens up a window, in which you check the two options:  "COOKIES AND OTHER SITE DATA"  and "CACHED IMAGES AND FILES". Set the time range to "ALL TIME". Next, click on "CLEAR DATA".
Video Tip: You can follow along by watching a 20-second video on How to Clear YouTube Cache on PC.
🤔 Problem 2: Profile image does not meet the requirements
💡 How to fix it:  In general, you will see a notification when the size of the image does not match YouTube channel requirements. Make sure the image aspect ratio is 1:1 (it can be either square or circle), has at least 98*98 px resolution, and weighs less than 4MB.
The recommended resolution is 800*800 px. The image can be in any common image format like PNG, JPG, BMP, or GIF (without animation).
🤔 Problem 3: Technical issues on the YouTube side.
💡 How to fix it: You may be doing it all right, but the image still won't change. This may happen because of technical issues with the platform. Try uploading another image, change a profile picture on Google and then, on YouTube (separately), or give it 24 hours, and check up on the following day.
If your account is new issues with YouTube profile picture more likely to happen. Generally, there's less than a 1% chance you won't be able to change your profile picture (avatar) on YouTube.
What Are Some Free Adobe Picture Makers?
As you learned how to change profile picture on YouTube, you may want to make a decent profile avatar worth your channel. Multiple avatar makers let you create and customize any picture, but most of them either require a paid subscription or ask for a few dollars to download the ready image without a watermark.
Both ways are frustrating and won't help you quickly change the YouTube channel picture.
Generally, all Adobe products require a monthly subscription. However, Adobe Spark is a free online photo and video editor with over 40 000 templates to start editing posts, logotypes, profile avatars, flyers, and more. It allows you to manipulate the size, color, text, and the overall look of the profile picture scaling, resizing, adding icons or text.
The only downside is the watermarks on images. Though if you click on the Remove Once option you will be able to remove it. To make the best of Adobe Spark, consider a paid subscription for $9.99/month with the 30-day free trial.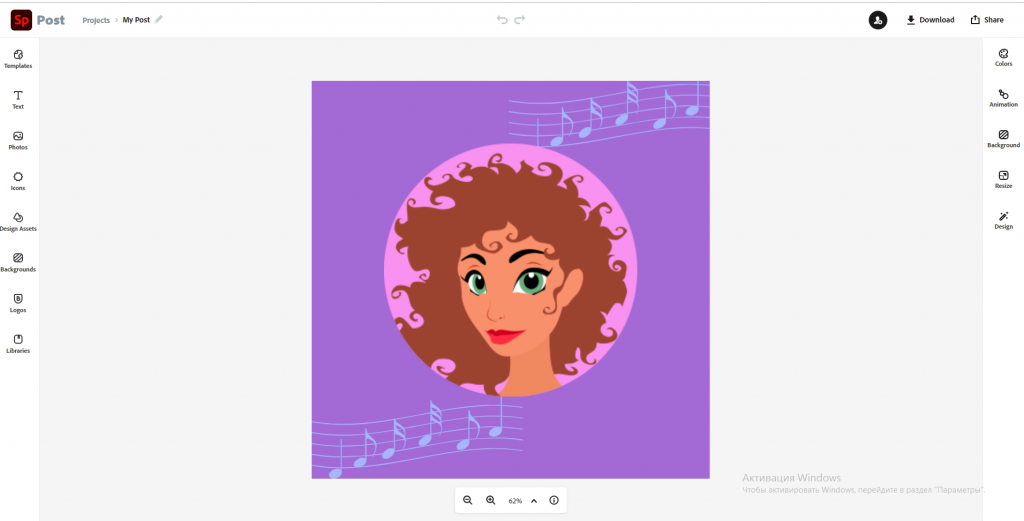 Here are a few more free online profile picture makers to try:
Canva, probably the most user-friendly free photo editor;
Paint.NET, Paint, or Paint 3D, best-known editors;
GIMP, a free alternative to Photoshop with advanced features.
Fotor, a web-based program for creatives;
Photoscape X, best for processing photos in batches.
To learn more about YouTube and how to become a successful creator check out How To section on this blog.
392
0
0
cookie-check
How to Change Profile Picture on YouTube [Android, iPhone, PC]